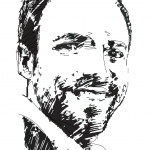 Hi! I'm Georges Janssens, a scientist researching the biology of aging, passionate about creating an exciting, timely, and scientifically sound resource for people who are interested in living longer and healthier lives. You can read my blogs on aging here. In my first blog post, OLDY, you can learn more about why I started this website.
This website also serves to share the academic goals and research of my team. See the TEAM page for more info.
A bit my CV and background: I'm originally from California (with Belgian/French parents) and graduated from UC Davis having studied genetics and philosophy. I completed a Masters degree in biomedical science from the University of Utrecht in the Netherlands in 2009, and graduated in February 2016 with a PhD in Systems Biology of Aging from the University of Groningen in the Netherlands, at the European Research Institute for the Biology of Ageing (ERIBA). I was a postdoc at the Karolinska Institutet in Stockholm, Sweden, working on diagnostics and therapeutics for human aging, and followed that up by a senior postdoc position at the Amsterdam University Medical Center in The Netherlands, working on mechanisms, markers, and interventions in aging. I am now an assistant Professor in the same medical research institute in Amsterdam, The Netherlands.
Feel free to contact me: georges [at] AgingIsBeautiful [.com]
And here are the academic papers: (* indicates equal contribution and # indicates correspondence).
---
License and disclaimer
In case you are inspired by things on this website, you can rest easy knowing that everything published here is done so under the Creative Commons Attribution 3.0 license, which means: feel free to use or redistribute the content of this blog, just please acknowledge the source.
Also regarding everything published here (and badaboom here comes the disclaimer): if something might sound like medical information, please know that this is not intended as a replacement for information from your very own doctor or physician, and especially since every person is different, responds differently, and has different needs, please consult a healthcare professional before taking any actions.